Towards Personalized Molecular Imaging

iMiGiNE® is part of the Medical Systems Division of PMB. The human-sized company was founded in 1998 and it specializes in the design and manufacture of complex mechanical assemblies for the Medical, Research and Industry fields.
PMB has developed a strong expertise on the brazing of dissimilar materials such as ceramic-metal or metal-metal, as well as on the design and manufacture of RF components. After several technological improvements made on the cyclotron Oscar (Oxford Instruments), PMB designed the cyclotron iMiTRACE.
iMiGiNE Project
The idea of creating iMiGiNE originated from a simple assessment: the variety and accessibility of radiopharmaceuticals we use for PET imaging today is limited. Therefore, the treatment offered for patients is also limited or even inadequate. We want to help medical centers and research facilities to break new ground in PET imaging, by providing them with various radiopharmaceuticals which can target different pathologies and enable a personalized diagnosis.
Project iMiGiNE was launched in 2013, with the French academic partner CEA – Atomic Energy Commission – and the industrial partner SigmaPhi (magnetic systems manufacturer). It is partially funded by Bpifrance, a governmental financial institution dedicated to supporting innovation in small and medium-sized enterprises.              
In 2016, the automated PET radiopharmaceutical production system iMiGiNE was launched commercially as a global solution combining a cyclotron, a radiochemistry module and a quality control device.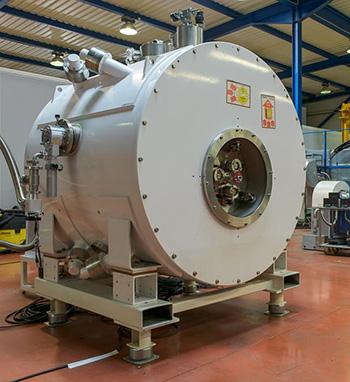 History
2012: Launch of the Project
2016: 1st beam at ITP in Madrid
2017: 1st production of Fluor
2017: Delivery of the 1st cyclotron in Guadeloupe to CIMGUA
2017: Commercial launch of iMiGiNE
2018: 1st patient diagnosed at CIMGUA
2018: Installation of the iMiDEV prototype in London and partnership with King's College
2019: iMiDEV installation in Nancy and partnership with Nancyclotep
2020: iMiDEV installation in Stockholm and partnership with Karolinska Institutet
2020: 1st automated synthesis at the SHFJ
2020: Commissioning of the 1st iMiGiNE at the SHFJ in Orsay
2021: 1st beam with helium-free iMiTRACE
2023: LOI signature with Eckert & Ziegler and Pentixapharm