Production of multiple radiopharmaceuticals per day

Using a microfluidic cartridge with onboard precursors and reagents and an innovative radiosynthesis box, the GMP-compliant radiochemistry module iMiLAB® is a unique automated solution to synthesize multiple radiopharmaceuticals on the same day. Moreover, iMiLAB is designed for single-dose, on-site production and can be used to synthesize more specific molecules to better characterize medical conditions.
Radiosynthesis using Microfluidic Technology
Using microfluidic technology, iMiLAB can synthesize multiple radiopharmaceuticals per day, based on 18F, 11C, 68Ga, 13N and more. Through an automated process, single-use cartridges with onboard precursors and reagents carry out the synthesis, preventing cross contamination. Moreover, the consumption of reagents and precursors is low, the synthesis is quick and the parameters are better controlled. 
Automated Operation
As it is designed for fully automated operation, from radiopharmaceutical selection to syringe-filling, using iMiLAB requires few personnel and the staff is exposed to a low level of radioactivity. At the end of the synthesis process, ready-to-use syringes are made available to the radiopharmacist: one for quality control and the other for the patient. Furthermore, all the equipment inside the radiochemistry room is easily accessible for maintenance operations.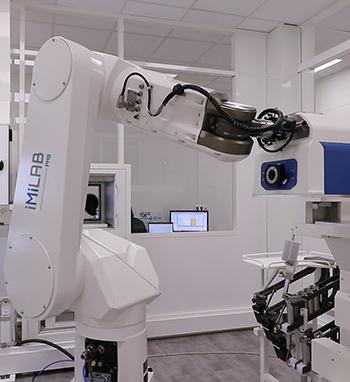 Versatility & Ease-of-Use
The user interface is intuitive and designed to give the operator all the necessary information to carry out the syntheses, depending on their level of expertise and training. Moreover, with iMiLAB, research teams have a ready-to-use tool at their disposal to synthesize and test multiple more specific molecules, in a short period of time.